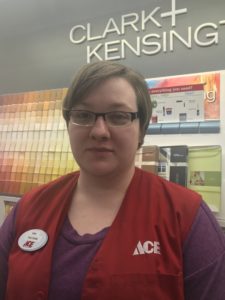 Hi my name is Kellie, I can help you with all your paint needs.  Try before you buy with a Clark + Kensington pint paint sample.  It's been rated #1 by Consumer Reports time and again!  Thanks for choosing The Paint Studio at S&S!
Contact me at:kellie@sshomecenter.com

Looking for your Soul Paint?
http://www.pinterest.com/acehardware/find-your-soul-painttm/
Custom Building Products: We carry many of their products and their step-by-step instructional videos on their website will make a DIY project look like a pro every time.
http://www.custombuildingproducts.com/homeowners.aspx
Watch the Video: "How to set tile from Custom Building Products"