Whether you're a professional contractor or an ambitious do-it-yourself-er, the helpful hardware folks at S&S Home Center are here with a staff of over 30 of your friends and neighbors.  We're trained to help with your project no matter how big or small, commercial or residential, with Departments in Lumber, Hardware, Paint, Plumbing, Electrical, Tools, and even an indoor/outdoor Lawn and Garden Center.  Residential and commercial contractors welcome.  We're proudly located in Magnolia, Arkansas, and also serve the greater tri-state area of Arkansas, Texas, and Louisiana.  And yes, we deliver!  We take pride in offering the very best customer service possible.  Above all other challenges, we are committed to this.  We're your friends and count you as ours.  Come in today and see us at:
1315 East Main Street in Magnolia
&
827 Central Ave in Stamps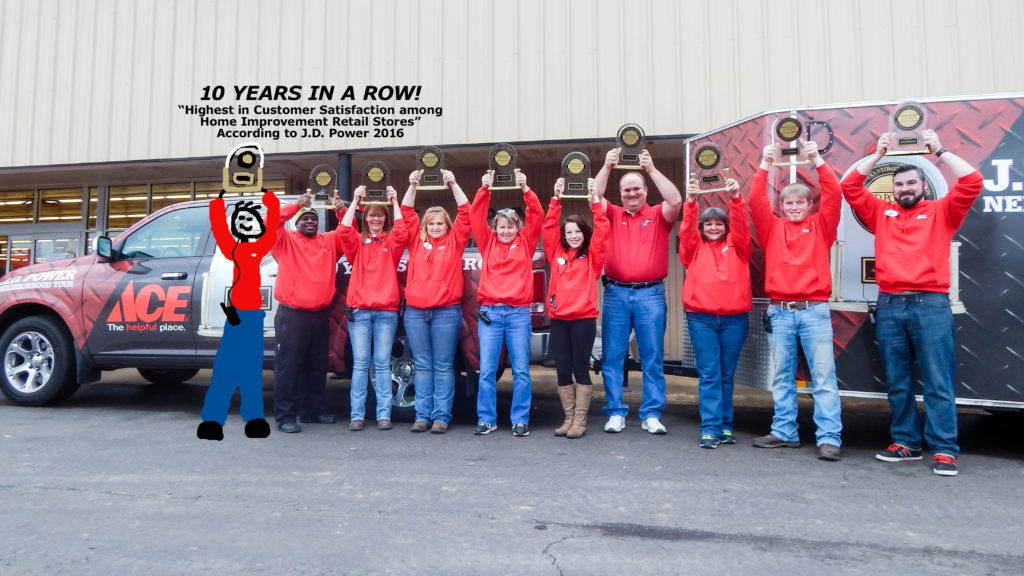 Thanks to all of our customers! In 2016, Ace Hardware was awarded J.D. Power's "Highest in Customer Satisfaction with Home Improvement Retails Stores" for now 10 years in a row!
Would you like to join our team?
Fill out an employment application and either bring it into the store or email Magnolia applications to Donna@sshomecenter.com or Wes@sshomecenter.com and Stamps applications to Stephanie@sshomecenter.com or Mrs@sshomecenter.com.